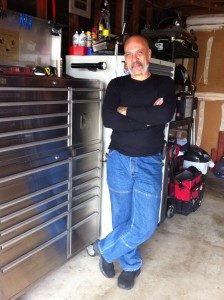 Thilo Young began working at a small tent trailer dealership in 1981. He was hired by Benlo Co. as a service technician in 1983. After acquiring expertise in the various RV repair areas he was promoted to foreman in 1989, the first foreman the company had in many years and the youngest ever. After leading the shop in repairs he was promoted to service manager of Benlo RV in 1996. He established the reputation throughout the San Gabriel Valley of being an honest, skilled and fair manager and leader, and running one of the best RV Services in the area and was well known in the industry. His customer base, established mostly through referrals, was broad and growing.
Although being promoted he never stopped performing repair tasks and diagnosed difficult appliance, electrical and electro mechanical problems for his service employees and customers. He also performed more basic repairs to keep his shop running smoothly and kept an almost perfect on time and budget delivery rate.
After leaving Benlo Co. he took some time off and has now returned to begin his own RV Repair and Service business.
He is now offering a Mobile RV Service on a limited basis.